VERNICE M. KOHLRUSCH
May 24, 1926 - October 22, 2005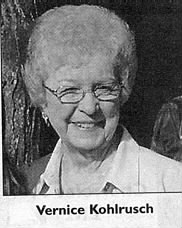 Vernice Mae Kohlrusch, age 79, of Blaine, Minn., died of a massive stroke Saturday, October 22, 2005. She was surrounded by her family.
Vernice was born in Deer Park on May 24, 1926 to Ole and Hilma (Erickson) Olson. She married Raymond Clarence Kohlrusch on December 15, 1945 in Deer Park.
She was preceded in death by her parents; her husband, Ray; brothers, Harold, Harvey, Donny and sister Vi. Vernice is survived by her children Mike (Jan) Kohlrusch, Penny (Jack) Broden, Cindy Bernardson, Candy (Doug) Payne; 11 grandchildren; 13 great-grandchildren; and their families, many nieces, nephews and friends.
Visitation was held October 25 at the Beebe Mortuary. Funeral services were held October 26 at the Trinity United Methodist Church in Deer Park with Reverend Terri Koca officiating. Organist Joyce Petersen accompanied vocalist Richard Dietrich. Active Casketbearers were Mike Kohlrusch, Paul Broden, Troy Bernardson, Bryan Bernardson, Mark Beitz and Matthew Payne. Honorary Casketbearers were Jack Broden and Doug Payne. Interment was in the Calvary Cemetery in Deer Park.
Arrangements were with the Beebe Mortuary.
(New Richmond News - Thursday, November 3, 2005 - Photo included)