Darin Travis Brantner
March 10, 1988 - August 9, 2007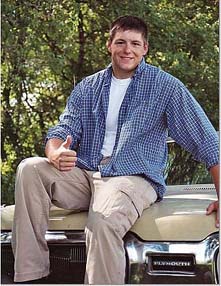 Darin Travis Brantner
Darin Travis Brantner, 19 of Deer Park, died Thursday, August 9, 2007.
Darin Travis Brantner was born on March 10, 1988 in Amery, Wisconsin the son of Jody and Debra (Olson) Brantner. He was baptized and confirmed at First Lutheran Church in Clear Lake.
Darin attended Clear Lake High School graduating with the class of 2006. He was active in FFA, wrestling and football at Clear Lake. He was also active in the Clear Lake Boy Scout Troop. During his senior year he also attended WITC and graduated shortly after high school. During his time at WITC, he received several awards from small engine competitions he entered. He worked in research and development at Kuryakyn in Somerset, making custom parts fit on motorcycles. Darin died on Thursday, August 9, 2007 in Emerald Township of St. Croix County, Wisconsin at the age of 19 years.
He was preceded in death by his father Jody Brantner. Left to mourn are his mother Debra Brantner and her significant other Larry Olson, brothers: Mike (Kelly) Swenson and son Brock, Tony (Sara) Swenson and son Brandon; sister Holly (Joe) Connors and children Bryn and Wyatt; grandparents: Dave and Marilyn Olson and Frank and Myrna Brantner; god parents: Tony and Anita Brantner and Stretch and Sandy Broker. Darin also leaves many other relatives and friends.
Funeral services were held on Tuesday, August 14, 2007 at 11 a.m. at First Lutheran Church in Clear Lake with Pastor Brian Anderson officiating. Organist was Margaret Peterson. Casketbearers were: Matt Dorsey, Frank Dorsey, Jim Dorsey, Daryl Anderson, Jeff Kaczmarski, Levi Ramsey, Jordan Witthoft, Mike Olson, Al Broker and Tim Stack. Interment was at the Forest Cemetery. The Williamson Funeral Home in Amery assisted the family with arrangements.
Please join us at www.DarinBrantner.com to help remember our friend Darin. Thank you