LORRAINE FREY
September 3, 1925 - May 20, 2008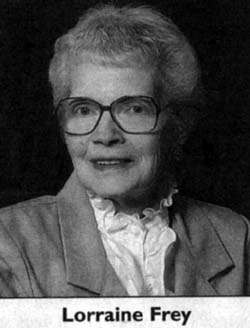 Lorraine C. Frey, age 82 of New Richmond, passed away peacefully after a long illness on Tuesday, May 20, 2008 at The Deerfield.
She was born the daughter of Philip and Elvera (Wahlberg) Warner on September 3, 1925 in Deer Park. On March 31, 1950, Lorraine married Marvin F. Frey in Minneapolis/St. Paul Fort Snelling Chapel. She was a nurse in the New Richmond area for more than 50 years. Lorraine volunteered in the community, was active at Christ Lutheran Church and was a member of the Order of the Eastern Star Loyal Chapter 67 of Star Prairie. She loved being a grandmother and great-grandmother, spending time with friends and traveling.
Lorraine is preceded in death by her parents; husband, Marvin; and brothers, Harlan, Loren and Wahlberg Warner.
She is survived by her children, Greg (Christa Perrin) Frey of New Richmond, Sandy (Todd Handevidt) Hohler of Stillwater, Pam Frey of Somerset, and Debbie (Leon Jr.) Chovan of New Richmond; grandchildren, Layla Frey, Eric Frey, James Johnson, Steve (Lisa) Hohler, Amy (Brad) Briggs, Erin Cutler, Ryan Cutler, Angela Schultz, David Schultz, Sam Chovan; great grandchildren, Jackie and Rachel Briggs, Alli, Lindsey, Madisyn and Derek Hohler, and Damian Cutler; sisters, Phyllis Humpal, Evie (Ira) Sumner, Anne Stuntz, Arlene Warner, Ruth Severson and many nieces and nephews.
A funeral service was held on Tuesday, May 27, 2008, at 2 p.m. at Christ Lutheran Church in Somerset. Visitation was held on Monday, May 27, 2008 from 6-8 p.m. at Beebe Mortuary in New Richmond with a Loyal Order of the Eastern Star service at 7:30 p.m. Visitation was also held on Tuesday fro 1-2 p.m. at church. Interment was in Calvary Cemetery in Deer Park with Steve Hohler, Brad Briggs, Ryan Cutler, David Schultz and Eric Frey as pallbearers. Honorary pallbearers were Angela Schultz, Erin Cutler, Lisa Hohler, Amy Briggs, Layla Frey and James Johnson. A most heartfelt thank you to Dr. Jeff Sikkink, Carrie and their staff, Dr. Candy Corey, and all the great people at the Deerfield.
Arrangements were with the Beebe Mortuary of New Richmond.

(New Richmond News - Thursday, May 29, 2008)