EVELYN E. GUST
October 30, 1916 - June 19, 2005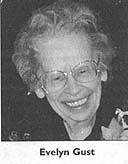 Evelyn E. Gust, age 88, of New Richmond and formerly of Deer Park died Sunday, June 19th at Holy Family Hospital in New Richmond.
She was born the daughter of Ole and Martha Evenson October 30, 1916 in Deer Park. Evelyn attended school in Deer Park and on March 21, 1942 married Herbert Gust in Deer Park.
Evelyn had a fantastic memory, remembering birthdays and anniversaries of all of her relatives. She loved her family, talking with people and was very proud to have worked at the post office a few years. Evelyn had a natural artistic talent and was an avid Brewers fan.
She is preceded in death by her husband, Herb (2004) and brothers and sisters. Evelyn is survived by her son, Herb of New Richmond and daughter, Ann and husband Gary Ferguson of Lake Havasu City, Ariz. and many wonderful nieces and nephews who she dearly loved.
A funeral service will be held Friday, June 24th at 1:00 p.m. at First Lutheran Church in New Richmond with Pastor Alan Buresh officiating. A visitation will be held on Thursday from 4-8 p.m. at Beebe Mortuary in New Richmond and also one hour before the service at the church on Friday. The interment will be in Calvary Cemetery in Deer Park with Roger Gust, Mike Woodworth, Randy Bottolfson, Jeff Bottolfson, John Woodworth, and Tom Johnson as the pallbearers. Honorary pallbearers will be Gary Bottolfson, Bob Gust, Steve Luhman, Jim DeSmith, Jack Gust, Arvid Fouks, Jack Scobey, Bill Gust, Jim Thompson, Marv Woodworth, Jerry Gust, Lavern Gust and Dennis DeSmith. Arrangements are with Beebe Mortuary of New Richmond.
(New Richmond News - Thursday, June 23, 2005)
(Amery Free Press - Tuesday, June 21, 2005)