Barbara Polfus
April 23, 1936 - March 18, 2003
"Live Well, Laugh Often, Love Much"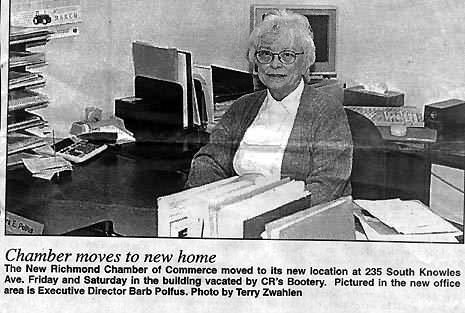 In the volunteer and professional work that she performed for parts of five decades, Barbara Polfus became so deeply involved with the business and social life of New Richmond that she nearly came to personify her community.
A dedicated worker, goodwill ambassador for New Richmond, a loving mother and grandmother, Barbara Polfus, 66, died late on the afternoon of Tuesday, March 18, at United Hospital, St. Paul, surrounded by loving family members.
Barbara is survived by her children, Christopher (Jody) and Nancy Polfus; grandchildren Alexis and Reece; brothers, Larry (Diane) Olson, Allen (Beverly) Olson, and David (Pam) Olson; sisters, Beverly (Douglas) Owen, Liz (Dave) Jahnke, Dolly (Jim) Hemauer; many nieces and nephews; and Chuck Polfus.
She was preceded in death by her parents and by three brothers, Richard, Royal and Darryl Olson.
She was born April 23, 1936, in the northeastern St. Croix County village of Deer Park, and she grew up in that community, one of 10 brothers and sisters in the family of Sheldon and Helen Olson.
Barbara was educated in New Richmond area schools.
On September 3, 1960, she was united in marriage to Charles Polfus.
Two years later she earned a bachelor of science degree in education, from the University of River Falls. She worked for a time in Eau Claire at Thorpe Finance. She also taught elementary school in Somerset and New Richmond.
Barbara is best known for her work with the New Richmond Area Chamber of Commerce & Visitors Bureau, first as a volunteer, and later as it's executive director. Her involvement in community work began with the New Richmond Fun Fest, and the Miss New Richmond pageant.
She started working with the Chamber by helping to coordinate the Queen's Committee.
Later she led that committee and worked countless hours to plan and coordinate the annual summer event. Barbara's adult children remembered that when they were youngsters, they followed her to work in the Fun Fest food tent, at the Grand Parade, and, as they grew older, signing people up for the Park Art Fair, which Barbara helped to coordinate during her years as Chamber executive director.
Barbara's years directing the Chamber were filled with projects undertaken in behalf of the retail business community.
She formed strong and lasting friendships with hundreds of business and professional people, working closely with dozens of them when they served on the Chamber's board of directors.
Barbara helped bring the Chamber into a new set of responsibilities when, a decade ago, she helped to found the St. Croix Valley Regional Tourism Alliance. Her work with that group helped put New Richmond on the map as a tourist destination.
It was during her years as executive director of the Chamber that the organization changed it's title to the New Richmond Area Chamber of Commerce & Visitors Bureau.
Barbara retired in January of 2000 and spent much of the last three years enjoying the company of her family and friends, spoiling her grandchildren, travelling and being at her home on Cedar Lake near Star Prairie. She was also an active member of the New Richmond Kiwanis Club and helped to coordinate it's publicity.
Barbara's generous nature was a home-grown commodity. She was always the first to volunteer and enjoyed cooking and socializing. Family events were numerous and she always opened her doors to family and friends.
If it involved a family event for brothers and sisters or nephews and nieces, she would volunteer to cook. She had a love for life and wanted to be involved with people, and she also liked "being where the action was".
Her motivation was her love for the community, her deep satisfaction in being with people, and her willingness to be involved.
Barb continues in her giving ways. Because of the way things turned out, the family was able to donate many of her organs. She continues to give even after her passing. Family members were aware that her donated organs had saved at least three lives.
Funeral services were at 11 a.m. Saturday at First Lutheran Church, the Rev. Larry Jorstad officiating.
Pallbearers included Dick Clark, Bob Peterson, Mike Burke, John Soderberg, Jim Drill, Gary Kittel, Terry McDermott and Rollie Meyer.
Honorary pallbearers included Pat Norman, Jane Drill, Mary Kittel, Polly Simpson, Jill Clark, Mary Squyer, Diane Herbert and Bonnie McDermott.
Burial was at Calvary Cemetery, Deer Park.
Memorials are requested to New Richmond Kids Company and the New Richmond area recreational trail system (through the city Park and Recreation Department).
Beebe Mortuary was in charge of arrangements.
(New Richmond News - Thursday, March 27, 2003 - picture included)
An archived news file regarding Barbara Polfus.
THE NEWS (New Richmond): City Plan Commission members voted unanimously in favor of a migrant worker housing project on the property of Chiquita Processed Foods in a meeting last Thursday at the Civic Center. Because the Plan Commission was voting on a conditional use permit for the proposal, City Council action is not necessary and the decision to allow the migrant housing is final. The company plans to construct a pair of buildings on land it owns behind the canning plant on New Richmond's west side. A move by the company last spring to obtain city permission for the project was postponed after neighbors objected to the presence of the buildings and their position on the property. Neighbors again objected to the migrant housing at Thursday's meeting, but there was support for the project, too. Representatives of the Lowry Hotel, where Chiquita migrant workers lived during the 1999 canning season, spoke in support of the project and praised the conduct of the migrant workers. New Richmond Area Chamber of Commerce & Visitors Bureau executive director Barbara Polfus (Olson formerly from Deer Park) submitted a letter in support of the project as well.