WILLIAM E. STUNTZ
June 15, 1926 - October 5, 2006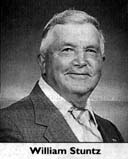 William Edward Stuntz, age 80, of Deer Park, passed away Thursday, October 5, 2006. He was born in Cumberland Township on June 15, 1926 to Robert and Emma (Kuhert) Stuntz.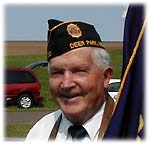 Bill married Anna Mae Warner on June 2, 1951 in Deer Park and together they farmed and raised three sons. Bill enjoyed fishing and hunting and took great pride in his family.
He was preceded in death by his parents; two sisters, Iva and Arlene; one daughter Julie; and one son Allen.
He is survived by his wife, Anna Mae of Deer Park; sons, Charles (Wanda) Stuntz of Amery, Duane (Mary) Stuntz of Turtle Lake, William Stuntz of Rice Lake; nine grandchildren, Nicolas (Ty), Aimee, Amber, Julie, Autumn, Erin, Drew, Gabe, Katie; three great grandchildren, Sydney, Mason and Ryan; one brother, Vern (Evelyn) Stuntz of Comstock; two sisters, Opal Bents and Vivian (Bill) Ricci all of Cumberland.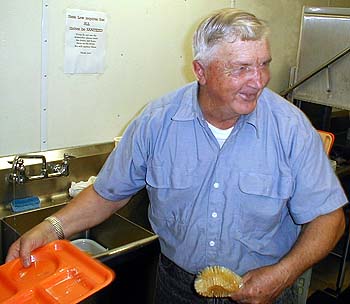 Bill Stuntz helps out at the Methodist Thanksgiving Supper in 2001.
Visitation was held Tuesday at the Beebe Mortuary in New Richmond. Funeral services were Wednesday at Trinity United Methodist Church in Deer Park with the Rev. Terri Koca officiating. Organist was Joyce Peterson and casketbearers were Bill's grandchildren. Full military honors were provided by the Wisconsin Military Honors Program, Spooner Unit and members of the Deer Park American Legion Post. Interment was in the Calvary Cemetery in Deer Park. Arrangements were with the Beebe Mortuary.

(New Richmond News - Thursday, October 12, 2006)
(Amery Free Press - Tuesday, October 17, 2006)