RICHARD C. "DICK" THOMPSON
July 2, 1910 - September 5, 1997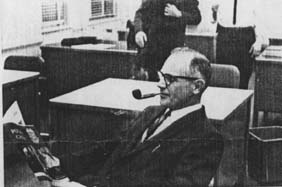 LAKE OAKS, RACINE - Richard C. "Dick" Thompson, 87, died at his residence on Friday, September 5, 1997.
Dick was born in Deer Park on July 2, 1910, to John and Ida Thompson. He was married to June Hosier on July 25, 1938 at Pointe Aux Barques, Michigan. Dick and June lived in Wauwatosa for 44 years, where they raised their family.
In 1937, Dick graduated from the University of Wisconsin, Madison, with a degree in Education. He also attended graduate school at the University of Minnesota and the University at Freiburg, Germany, where he studied language. He had a lifelong interest in language, travel, and learning. Dick travelled extensively through Europe. His travels included two bicycle trips across Germany, one solo and one with June shortly after they were married.
Dick spent 25 years as a Special Agent of the FBI. His years with the FBI included a counterintelligence assignment in the European Theater during World War II. Following his retirement from the FBI in 1965, he taught Police Science at MATC and fully retired in 1977.
Dick and June were longtime members of Trinity Episcopal Church, Wauwatosa, where Dick served on the vestry. At the time of his death, Dick was a member of St. Nicholas Episcopal Church, Racine; the Society of Former Special Agents of the FBI, Milwaukee chapter; Racine Masonic Lodge, #18; and the Sons of Norway.
Survivors include his wife, June; their children, Marie Ludwig of Boston, Mass., Richard (Marcia) of LaCrosse, Chris (Dave) Gospodarek of Raleigh, N.C., and John of Madison; three grandchildren, Mandy and Gunnar Thompson and Andy Gospodarek; brother, Hugh of Grapeview, Wash.; sister, Ruth Lorentzen of Weidman, Mich.; two sisters-in-law, Jeanne Brooks of West Bloomfield, Mich. and Joanne Fitzgerald of Itasca, Ill.; nieces, nephews, numerous relatives, and dear friends. He was preceded in death by his parents and a brother, John Thompson.
A Memorial service will be held at the DeKoven Chapel at Lake Oaks on Monday, September 8, 1997, at 11 a.m. with Fr. Lee Downs officiating. Relatives and friends are welcome to meet with the family at the chapel on Monday from 10:30 a.m. until the time of service. Memorials may be given to St. Nicholas Episcopal Church, 2509 16th Street, Racine 53405.

MARESH-MEREDITH FUNERAL HOME
803 Main Street
(The Journal Times - Sunday, September 7, 1997)

Dear Friends and Relations,
As some of you know, Dick died September 5, 1997. For three and half years he fought cancer. He never quit. He was up and dressed daily, and he was driving the car until the week before he died. He died in our own bed. He maintained his dignity, and I helped as he would let me. I'm finding it a lesson in humility to learn to manage the household alone after 59 years of marriage. I miss him.
His eighty-seven years were busy, productive, and well-spent. He continued to work on old projects and start new ones in gardening, family history, woodworking, and furniture refinishing. He never tired of reading and arguing about history, religion, and politics. He loved conversation, and often we say "Dad would have liked that," or "I wish I could ask him about that."
Dick's funeral was in a beautiful chapel, built in 1854, which I can see from the apartment. We are planning a family reunion in Deer Park, Dick's home town, next Memorial Day. At that time we will bury his ashes in the Deer Park Cemetery, near many of his forebears, and there will be the kind of opportunity for food and conversation that delighted him while he was alive.
The family has been supportive throughout Dick's illness and since his death. All our children and grandchildren will be together again this Christmas, when we will give thanks for our many blessings, including Dick's rich life and memory. I'll close with the grace Dick regularly said before meals:

Sanctify Lord we pray
This food for our use
And our lives for Thy service,
And keep us mindful
Of the needs and wants of others. Amen.

June Thompson