JUDITH A. WAGNER
September 27, 1954 - November 6, 2006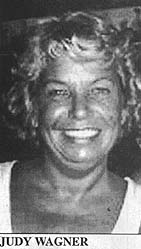 Judith A. Wagner, 52, Amery, WI, died Monday, November 6, 2006.
Memorial service was November 9 at Williamson Funeral Home, Amery, WI. Funeral service was November 10 at Church of Jesus Christ of Latter Day Saints, Hudson, WI. Interment was at Calvary Cemetery in Deer Park, WI.
She was born September 27, 1954, in St. Paul, MN, to Joyce and Jack Manteuffel.
She is survived by her children, Jamie, Jeremy, Erica and Tommy Wagner, and former husband Tom Wagner; grandchildren, Charista, Little Jamie, Tyler and soon to be born Anna; her siblings, Jim (Terry) Manteuffel, John (Mary) Manteuffel and Jane Erickson, and many relatives and friends.
She is preceded in death by her parents, Joyce Baisley and Jack Manteuffel.
Judy's new home is in paradise, and it is her time to heal, laugh, dance, pick rocks, talk, love, and she is at peace. You will be missed greatly, but more importantly, you are free and living eternally. We love you!
(Amery Free Press - Tuesday, November 21, 2006)