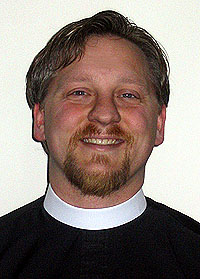 Pastor Daniel Voth
Saint Paul Lutheran Church
Biographical sketch of Pastor Voth
Photo by Carolyn Mertz
(January 2004) Daniel Christian Voth, a native of Minnesota, was born in Rochester, Minnesota October 6, 1970. Soon thereafter his parents, Vic and Sheryl, moved to Red Wing, Minnesota where they still reside. Daniel attended Concordia-Immanuel Lutheran School in Red Wing through sixth grade and graduated from Red Wing Central High School during 1989. Daniel received a Bachelor's Degree in Natural Resource Management – Land Use Planning from the University of Wisconsin –Stevens Point in 1993.
Before hearing the call to serve the Lord as a pastor, Daniel's previous professional career including working in the City Planning Department for the City of Red Wing, the Goodhue County Land Use Department, and a private urban planning firm located in Minneapolis, Minnesota.
Heeding the Lord's calling, Daniel enrolled at Concordia University – Minnesota in Saint Paul in the fall of 1994 to study Greek and other seminary preparatory courses. In the Fall of 1995, he enrolled at Concordia Theological Seminary, Fort Wayne, Indiana. During the summer of 1996, he served a summer vicarage at Our Redeemer Lutheran Church, Jacksonville, Illinois, working with the youth under Pastor Harold Woodworth.
On August 2, 1997, he wed Crystal Carlson, a classmates daughter and they set off for Florida where he served his vicarage year at Hope Lutheran Church, Bradenton. On May 21, 1999, Daniel graduated from Concordia Theological Seminary.
He was called to Shepherd of the Ridge Lutheran Church, Milwaukee, Wisconsin and was ordained and installed there as sole pastor on July 20, 1999, which he served until April of 2001.
During Daniel's absence from the public ministry he and his wife Crystal were involved in a South Wisconsin District of the LCMS pro-life organization as house parents for single expectant mothers for over a year, after which they moved to Red Wing, Minnesota. He has worked as a bicycle mechanic, an armed nuclear security officer, and at the front desk of a hotel, in addition to playing bass guitar with two different worship teams and serving a vacant congregation in Stockton, Minnesota. Daniel and Crystal have been blessed by God with 3 children: Gustave Christian who is 3½ years old; Lillian Olivia, who is 23 months; and Larz Ulrick, who is 3 months old.