The first annual Deer Park 5K run/walk starts off on the right foot with 74 entrants.

Runners and walkers are over the starting line on the first 5K in Deer Park at 8:01 A.M. -photo courtesy of Matt Kennedy Photography, Deer Park, 269-5669.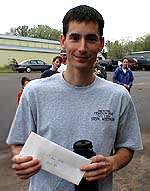 Chris Stevens takes the grand prize.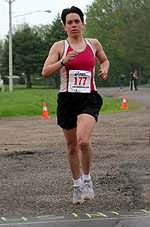 Nadine Wetzel-Curtis is the fastest female runner at 19 minutes 41 seconds. -photo courtesy of Matt Kennedy Photography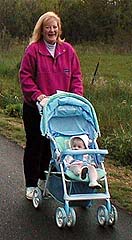 The first annual Deer Park Fire Department 5k Run/Walk took place on May 21 under the most threatening of skies. High winds were reported to the west and nearby Stillwater was pelted by heavy rain. But during the duration of the race event from 7:00 A.M to about 9:15 A.M. the rain held off. Winds were calm and temperatures were around 60 degrees so the 74 runners and walkers had near perfect weather.
The DP Fire Department organizer was fireman Joe Ailts.
This year's event was divided into only two classes, male and female, next year's event will have classes by age group.
Chris Stevens from New Richmond turned in the best time at 18:11, Nadine Wetzel-Curtis came in at 19:41 as the best female runner. The fastest Deer Park fireman was Tom Cunnien at 27:46. Cash prizes were given for those with the best times, but all the runners and walkers were winners with good times. The event accommodated everyone, those who chose to compete and those who wanted a pleasant invigorating walk.
With unusually comfortable weather for all, this was indeed a new community experience for the area with 74 runners and walkers all heading westward out of the village limits together. The fire department placed trucks and watchful firemen along the route at intersections as well as at the turn-around point 2-1/2 kilometers out of town. The finish line was right in Deer Park across the street from the fire department.
The event was an obvious success, well planned and glitch-free with a higher than expected turn out. Area people also were able to get a look at the well equipped fire department.
The two leading runners are past the halfway point, and the lead by Chris Stevens, far left, widens with Joe Ailts, right, about 30 seconds behind at 8:11 A.M. The half way point is at the far top right of the photo.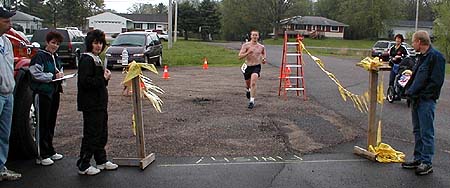 Kristi Severson watches the clock as Joe Ailts approaches the finish line completing the 5K (3.11 miles) run in 18 minutes 50 seconds.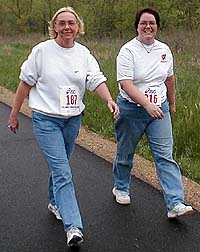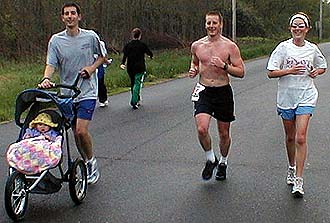 Fast runners cool down with a second lap and baby gets a fast ride.
Dogs get in on the fun too.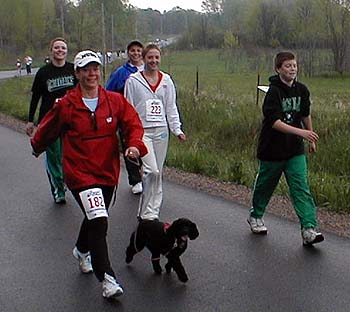 [Page 2 - Finish line photos by Matt Kennedy Photography] [Home]