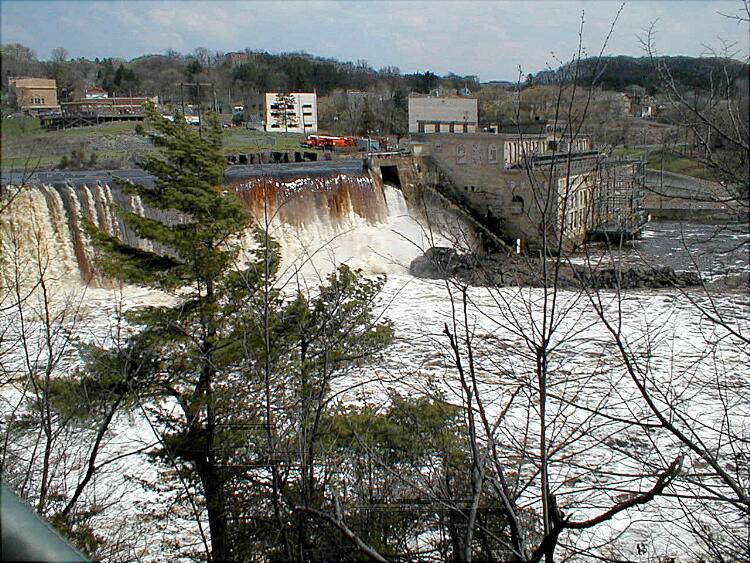 Saint Croix Falls Dam and Power House, Saint Croix Falls, Wisconsin
April 29, 2001

At the time of this photo 38,800 cubic feet per second of water was flowing over the dam. A few days before 60,000 cubic feet per second was falling. Niagara Falls, (American and Canadian) average 194,940 cubic feet per second so the Saint Croix was rivaling the American Falls portion of Niagara Falls for a short period around April 26, 2001.
Polk County was recently included as a flood disaster area.

Streamflow at Saint Croix Falls

Date
Streamflow
Cubic
feet/sec
Long
Term
Mean
Stage
Trend
Previous
Record
PM
4/22/01
20,200
-
11.00
Flat
-
AM
4/24/01
35,000
-
18.00
Up
-
AM
4/25/01
49,700
8,680
23.40
Up
33,800
AM
4/26/01
Crest
60,000
8,270
25.10
Up
-
AM
4/27/01
55,300
8,279
23.77
Down
-
PM
4/27/01
50,800
8,270
22.03
Down
32,800
[Christmas] [Thanksgiving] [WTC Attacks] [Summer Celebration] [Floods] [Winter] [Home]