Black Brook, the little dam that could.
The Flood of 2001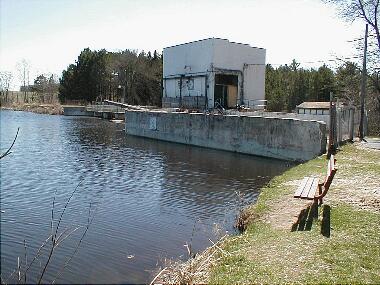 The quiet side of Black Brook Dam near the crest April 26, 2001.
Highway 8 reopens north of Amery at Country Dam

Thursday, April 26, 2001
Archived from WXCE Radio

The Wisconsin Department of Transportation has reopened the section of US Highway 8 between Wisconsin Highway 35 North and US Highway 63 in Polk County. Highway 8 was closed Wednesday as a precautionary measure because the Country Dam north of Highway 8 was leaking and there was concern for the safety of motorists traveling over the Apple River Bridge near the Highway 8/Highway 46 junction north of Amery. The water level in the dam has dropped about a half foot and the leak has been sandbagged. Two lane traffic has been restored and the Polk County Sheriff's department is monitoring the situation.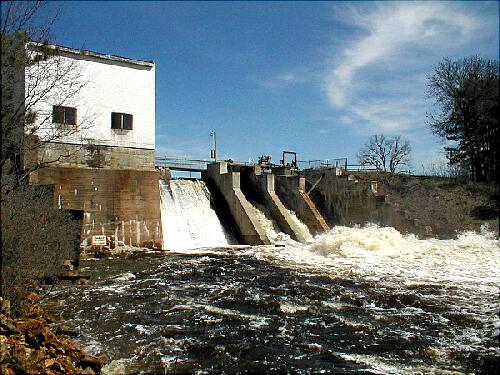 Flooding shuts down area roads
Wednesday, April 25, 2001

High waters continue to close down area roadways. Polk County authorities began monitoring levels on the Apple River Tuesday afternoon and decided to shut down Highway 65 between Highway 8 and Star Prairie, and the road remains closed today. Flooding on the St. Croix River has caused roads to by closed near Danbury. Water covers Highway 48 and authorities are concerned about the tremendous flow of water under the bridge, which may threaten its footings. The river is expected to rise yet today. Highway 35 north of Danbury has also been closed. The bridge over the St. Croix is not covered by water, but water covers the road north of the bridge. Highway 35 is expected to be re-opened by mid-morning. Authorities are keeping an eye on the bridge at Highway 70 west of Grantsburg.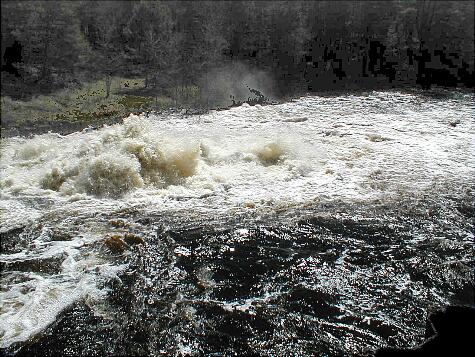 A view below Black Brook Dam.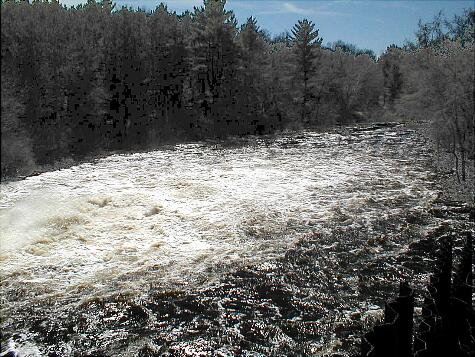 Looking downstream towards Little Falls.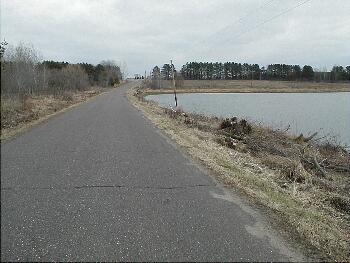 Typical flooding areas near Deer Park show no threat existing.
Views are east of the old Deer Park School building and the Willow River.