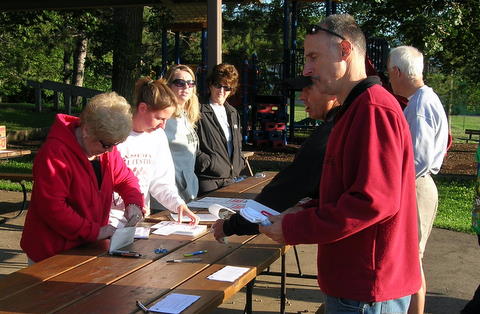 Registration
After a hiatus of one year, the Deer Park Run/Walk was back in stride but this time taking place in late summer instead of late spring. The weather for running was ideal. The day was sunny and calm, temperatures began in the lower 50's and climbed into the upper 50's at the finish line.
The sponsor has changed from the fire department to the St. Croix Grower's Association.
The race was again headed by Joe Ailts and yes, there will be another race in 2010.
The facilities of the Deer Park Village Park complete with restrooms, a shelter and tables were used.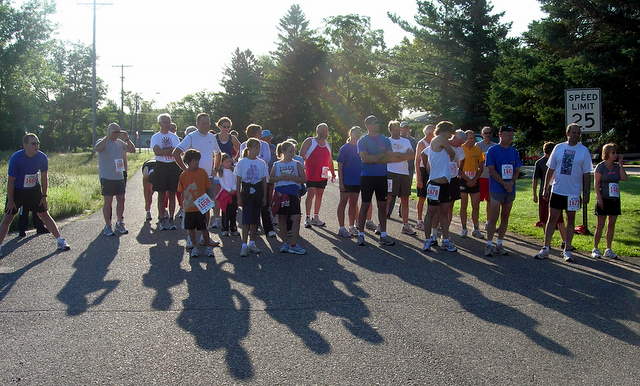 The fourth annual Deer Park 5K run/walk starts off on the right foot.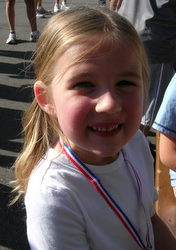 The youngest entrant.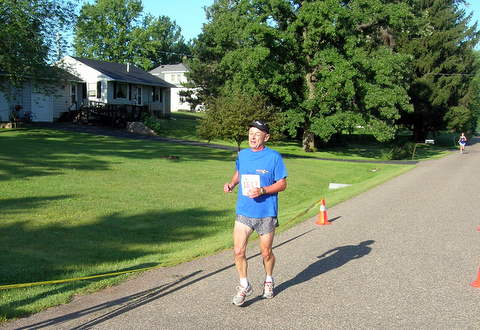 Jim Heebink does it again by running the 5K 7 seconds faster and also capturing first place in the over 60 year class.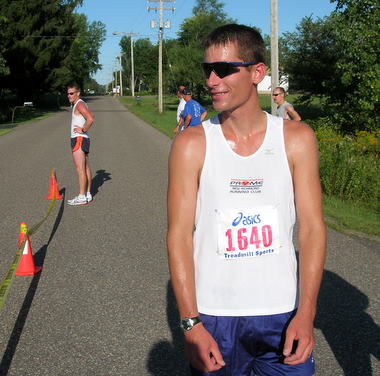 Chris Stevens, winner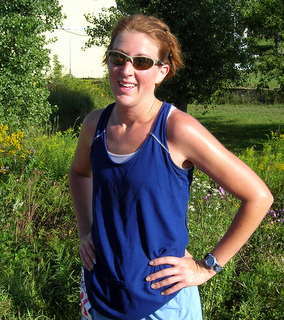 Amy Stevens 1st place women's class
Winning is a family tradition. Chris Stevens was the overall winner once again and AJ Stevens took first place in the women's class.
Ilisa Ailts second place winner, women's class and first place winner in the 20 - 29 year old class.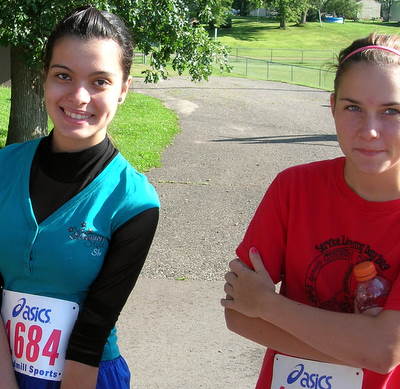 Dilya Azizova and Alyssa Johnson
Dilya Azizova, a foreign exchange student, arrived in the United States on Thursday, August 20 from Turkmenistan, an Asian country. On Saturday she entered the 2009 Deer Park Run/Walk along with her friend Alyssa Johnson and took the prize for the 13-19 year old class.
This is also the first year video has been used to document the event. The video is 6 minutes and 9 seconds long. A high-speed internet connection is recommended for viewing.
Deer Park Run/Walk Results of August 22, 2009

| | | | | | | | | | | | | |
| --- | --- | --- | --- | --- | --- | --- | --- | --- | --- | --- | --- | --- |
|   | Name | Time | Place (men) | Place (women) | Comment | | |   | Name | Time | Place (men) | Place (women) | Comment |
|   | Name | Time | Place (men) | Place (women) | Comment |   |   | Name | Time | Place (men) | Place (women) | Comment |
|  1 | Chris Stevens | 18:01:00 | 1, 30-39 |   |   |   | 22 | Stacey Belisle | 26:54:00 |   | 2, 30-39 |   |
|  2 | Joe Ailts | 19:20:00 | 2, 30-39 |   |   |   | 23 | Lynnelle Gabriel | 28:54:00 |   |   |   |
|  3 | Joe Kelzer | 20:24:00 |   |   |   |   | 24 | Peggy Nieckel | 29:34:00 |   | 1, 40-49 |   |
|  4 | Gabby Lubich | 20:57:00 | 1, 50-59 |   |   |   | 25 | Kris Lubich | 30:09:00 |   | 1, 60+ |   |
|  5 | Jim Heebink | 21:27:00 | 1, 60+ |   | 7 seconds faster! |   | 26 | Larry Johnson | 30:20:00 |   |   |   |
|  6 | AJ Stevens | 21:40:00 |   | 1, 30-39 |   |   | 27 | Susan Hegg | 30:55:00 |   | 2, 50-59 |   |
|  7 | Dave Goodrich | 22:53:00 | 1, 40-49 |   |   |   | 28 | Brooke Keilen | 31:05:00 |   | 1, 12 & Under |   |
|  8 | Dan Keilen | 23:06:00 |   |   |   |   | 29 | Ringsven R | 32:15:00 |   | 2, 60+ |   |
|  9 | Rick Nelson | 23:08:00 | 2, 50-59 |   |   |   | 30 | Candy Sykora | 34:35:00 |   | 2, 20-29 |   |
| 10 | Russ Patten | 23:20:00 |   |   |   |   | 31 | Renee Fehlen | 35:19:00 |   | 2, 40-49 |   |
| 11 | Ted Germain | 23:40:00 |   |   |   |   | 32 | Karen Breault | 36:31:00 |   |   |   |
| 12 | Jeff Reed | 23:59:00 | 2, 60+ |   |   |   | 33 | Phyllis Humpal | 38:37:00 |   |   | Partial |
| 13 | Ilisa Ailts | 24:00:00 |   | 1, 20-29 |   |   | 34 | Nick Fehlen | 44:55:00 | 2, 13-19 |   |   |
| 14 | John Hopkins | 24:09:00 |   |   |   |   | 35 | Alyssa Johnson | 47:19:00 |   | 2, 13-19 |   |
| 15 | Jim Baillargeon | 24:44:00 |   |   |   |   | 36 | Dilya Azizova | 47:19:00 |   | 1, 13-19 |   |
| 16 | Jordan Kennedy | 24:56:00 | 1, 13-19 |   |   |   | 37 | Ellie Keilen | 49:33:00 |   | 2, 12 & under |   |
| 17 | Alan Buresh | 25:00:00 | 2, 40-49 |   |   |   | 38 | Hannah Keilen | 49:43:00 |   |   |   |
| 18 | Connor Johnson | 25:30:00 | 1, 12 & under |   |   |   | 39 | Trisha Keilen | 50:07:00 |   |   |   |
| 19 | Steve Swanson | 25:40:00 |   |   |   |   | 40 | Parker Keilen | 50:29:00 |   |   |   |
| 20 | Kris Nelson | 26:09:00 |   | 1, 50-59 |   |   | 41 | Julie Keilen | 50:30:00 |   |   |   |
| 21 | Jim Remington | 26:40:00 |   |   |   |   |   |   |   |   |   |   |

[5K/ 5 Mile Run/Walk 2011] [5K Run/Walk 2007] [DPFD 2006 Race] [5K Run/Walk 2005]
[Home]