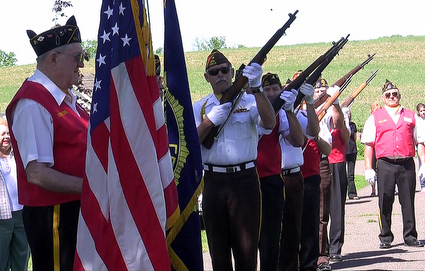 The New Richmond VFW and American Legion Honor Guard once again salute the buried veterans at Calvary Cemetery on Memorial Day, May 31, 2010. On the far left is Bob Kastens, former Deer Park American Legion member. On the far right is Dennis Hurtis, squad leader.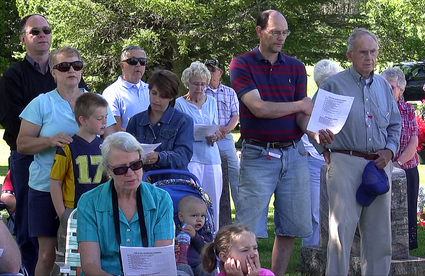 A portion of the Memorial Day crowd at Calvary Cemetery enjoy the perfect spring day.
Memorial Day in 2010 occurred during mid-summer-like weather. Blustery winds of years past were absent. The tree the VFW and American Legion squad stand under was fully leafed out and they were standing in deep shade.
Dennis Hurtis was this year's Honor Guard squad leader. The squad stopped at Cylon, Stanton, Deer Park and two additional stops afterwards.
In 2010, Calvary has 118 buried veterans. Honored this year were Shannon Wilbur, David Lease and James Jarchow.
Although the weather was perfect, this year's schedule of speakers failed completely. The United Methodist Church pastor opted out in advance and a replacement pastor never arrived. Lowell Fouks picked up the speaker's flag using some text previously prepared - just in case. At noon sharp on Memorial Day the flag is raised back to full staff and this usually unobserved event is recorded in this year's video.
Video contents:

VFW/American Legion and Memorial Day program video 6 min 16 sec.