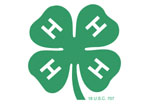 North Country 4-H
Deer Park, Wisconsin
General Leader Contact: Cheryl Kemling 246-2890
April 2006 Highlights
The Easter Egg Hunt sponsored by North Country 4-H on April 15, 2006, was held on a balmy Saturday afternoon this year at the Deer Park Village Park. The event was again successful and well attended.
Photos courtesy of North Country 4-H, Cheryl Kemling.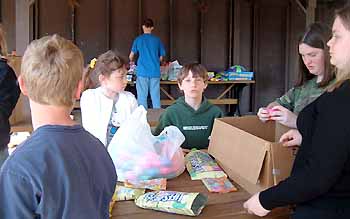 Setting up for the event are Sierra Rutledge, Adam Poye, Amanda Nichols, and Cassie Mayer. Aaron Kemling (back to the photo) and Josh Beebe is in the background.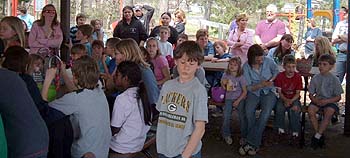 The crowd at the Easter Egg Hunt April 15, 2006.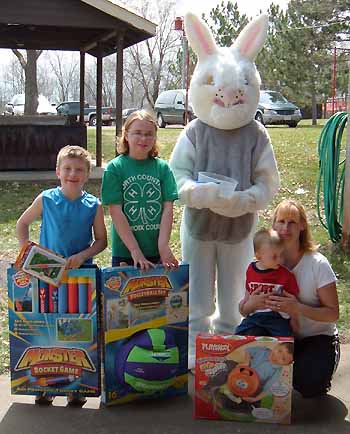 Winners, Grades K-2-Christian Penard, Grades 3 and Up-Shelby Weiske, and Preschool Jens Lindquist and his mom. The North Country 4-H Easter Bunny is played by Josh Beebe.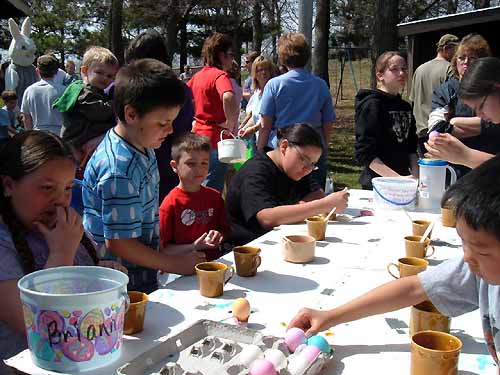 Deer Park area youngsters are engrossed in their projects.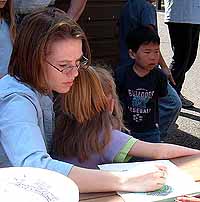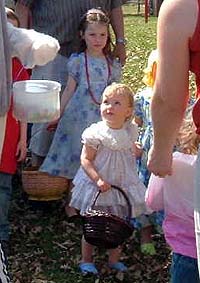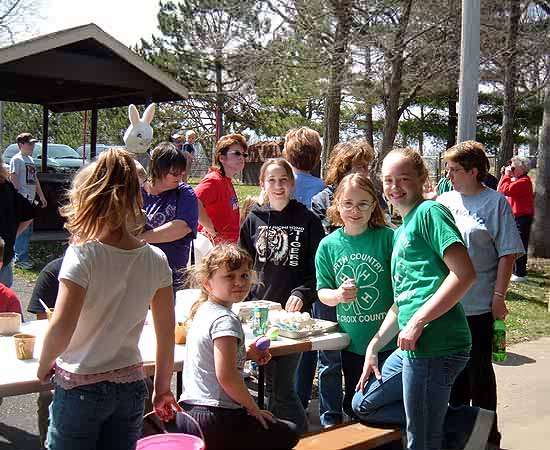 Left to right: Erica Kemling, Shelby Weiske, and Paige Weiske. The little one in front is Sierra Rutledge.
March 2006 Highlights
The Deer Park 4-H group that performed at the District Talent Explosion in Boyceville on March 18 received a Merit of Humor.
February 2006 Highlights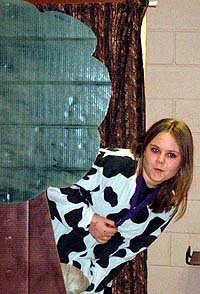 Cassie Mayer
North Country 4-H presented a musical at the Mini-Talent Explosion in Baldwin on Thursday, February 16. Their musical was called Big Buck Brigade, written and directed by Katie and Laura Wilcoxson. The 4-Hers participating were Rachel Wilcoxson, Cody Wilcoxson, Erica Kemling, Cassie Mayer, and Sierra Rutledge.
This talented group won the Mini-Talent Explosion and will now compete at the District Talent Explosion in Boyceville on March 18. We're very proud of their dedication and hard work preparing for the Mini-Talent Explosion!
Back row - Cassie Mayer, Katie Wilcoxon, director, Cody Wilcoxson. Front Row - Rachel Wilcoxson, Erica Kemling, and Sierra Rutledge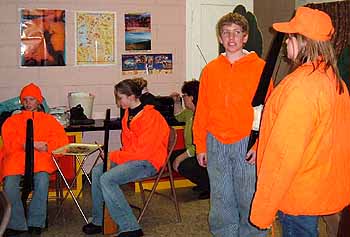 Mini-talent group.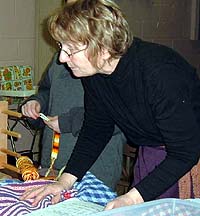 Barbara Krueger conducts a weaving demonstration at North Country 4-H.
Char Croes, Weavers and Wannabees, and Brittanee Zemke.
Barbara Krueger and Char Croes, from the Weavers and Wannabees, gave a weaving demonstration for the North Country 4-Hers on February 14, 2006.
The Weavers and Wannabees group is based in the Deer Park area where weaving skills are shared with other members. New members are always welcome.
Char Croes is also active in the North Country 4-H group as a club and project leader.
January 2006 Highlights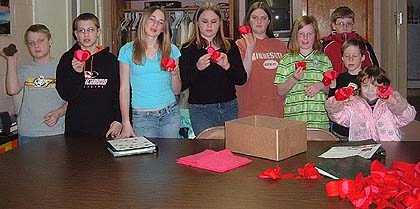 North Country 4-H members wrap up a work session at their January 2006 meeting.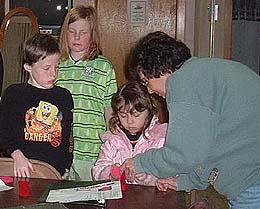 The youngest get the most assistance.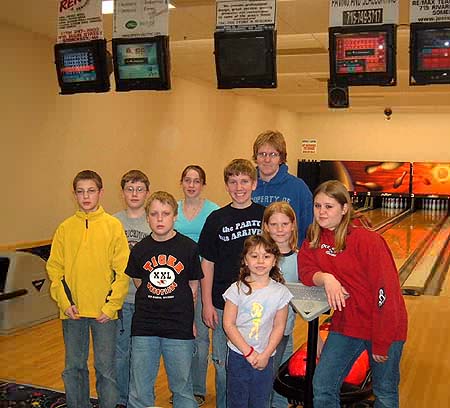 Bowling in New Richmond, January 29, 2006.
The 4-Hers are planning an afternoon of bowling at Gibby's Lanes in New Richmond on January 29 at 1 p.m. The Weavers and Wanabees will be speaking and demonstrating weaving at the February meeting.
The pictures are the favors made for the Senior Centers in Deer Park and New Richmond for Valentine's Day.